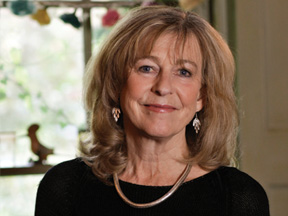 Welcome to my website. Here's a very basic autobiography, but there's lots more information about my books – how they came about, what inspired them, plots, reviews and so on – if you click onto individual titles. There's also an extract from "Tulip Fever", "These Foolish Things" and "In The Dark". And there's an Interview, Photos, a Newsletter with the latest developments and events, a page of Contacts, and an email address if you'd like to get in touch and ask me some questions: moggachdeborah@gmail.com.
Both my parents were writers – my father wrote naval history, biographies and children's books; my mother wrote and illustrated children's books. I had three sisters, and we grew up to the sound of typewriters tapping in the veranda, where our parents sat side by side, working. I wasn't a particularly writerly child, however. I preferred playing with cars and animals. I didn't like girly things and my hero was William Brown.
I went to Bristol University, worked in publishing for a bit, did some waitressing, taught riding, trained as a teacher, and then got married. In the mid-70s I went to live in Pakistan for two years. After an English upbringing this was incredibly liberating and it was here that I started writing – both articles for Pakistani newspapers and my first novel, "You Must Be Sisters". This was a coming-of-age, autobiographical novel as was my next, "Close To Home", which was the story of a mother with small children (by this time I had returned to London , to live in Camden Town, and had a son and daughter).
I then left my own life behind. "A Quiet Drink" is the story of a cosmetics rep with a beautiful but dumb wife, while "Hot Water Man" is set in Karachi: a comedy of manners between East and West, Islam and America. "The Ex-Wives" is a comedy about a boozy actor and his chaotic marital life. "Driving In The Dark" is the story of a coach driver who travels around Britain searching for his unknown son, the result of a one-night stand many years earlier. "Porky" is a spare and rather unsettling novel about incest, set on a pig farm next to Heathrow Airport. In fact, the loss of childhood – through kidnap, divorce, abduction – figures in several more of my novels: "Seesaw", "Stolen", "To Have And to Hold".
I began writing screenplays in the mid-eighties and like moving back and forth, between the interior world of the novel and the conflict-driven life of drama. I also like actors because they call me "darling", and I try to appear as an extra in my own shows. I wrote a thriller about the movie business called "The Stand-In", which I scripted as a Hollywood movie, and adapted "Pride And Prejudice" as a film starring Keira Knightley, for which I received a BAFTA nomination. I've also adapted Nancy Mitford's "Love In A Cold Climate" for the BBC and won a Writers Guild Award for my adaptation of Anne Fine's "Goggle-eyes". The most recent of my own novels I've adapted is "Final Demand", starring Tamsin Outhwaite – a story of fraud, retribution and reptile-breeding. "These Foolish Things", my novel about outsourcing elderly Brits to India, was released in 2012 as "The Best Exotic Marigold Hotel" and became quite a hit; there's even recently been a sequel.
Art, illusion, doomed love and a tulip bulb are the themes of my first historial novel, "Tulip Fever". This was inspired by my love of 17th century Dutch painting – in particular, a painting I bought at an auction, a sub-Vermeer interior of a woman getting ready to go out, her servants poised with necklace and glass of wine. I love the stilled drama of paintings by ter Borch and de Hooch, and wanted to step into those rooms. This novel was an extraordinary adventure to write and was finally filmed in 2015.
My other historical novel, "In The Dark" is set in 1916, a story about war, meat and sex. I'm adapting that one, too, as a TV serial. I'm also adapting "Heartbreak Hotel", my recent comic novel set in the Welsh Borders and featuring Buffy, the boozy old actor from "The Ex-Wives".
My most recent novels are "Something To Hide", which is set in Pimlico, Bejing, Texas and a fictitious African country, and tackles pharma-piracy, elephant poaching and the romantic disasters we find ourselves embroiled in even when we're old enough to know better. "The Carer" is a comedy about an old man, his carer and his grown-up children, and "The Black Dress" is a rather darker comedy about a woman who gatecrashes funerals, looking for love.
I've written a stage play, "Double-Take", which was performed in Liverpool and Chichester, and have recently adapted "The Best Exotic Marigold Hotel" into a stage play, starring Hayley Mills, which has been touring the UK and will hopefully come into the West End. My two books of short stories have recently been collected into one volume, "Fool For Love."
I've done quite a bit of journalism and I've also been Chairman of the Society of Authors and served on the Executive Committee of PEN, as well as being a Fellow of the Royal Society of Literature. And recently I was awarded an OBE for services to literature and drama.
My children have long since grown up, and I now live in London and on the coast in Kent.
SHORT BIOGRAPHY
I've written 20 novels and 2 books of short stories. Several of these novels I've adapted for TV, including "Seesaw", "Stolen" and "Final Demand". Other writers' books I've adapted include Nancy Mitford's "Love in a Cold Climate", Anne Fine's "Goggle-Eyes" (for which I was given the Writers Guild Award for Best Adapted Screenplay), "The Diary of Anne Frank" for the BBC, and the movie of "Pride and Prejudice", starring Keira Knightley, for which I was nominated for a BAFTA. I co-wrote the screenplay (with Tom Stoppard) of my novel "Tulip Fever" which was released as a film starring Alicia Vikander and Judi Dench. My novel "These Foolish Things" was made into the hit movie "The Best Exotic Marigold Hotel" and I've just adapted it as a stage play starring Hayley Mills, which has toured the UK. My latest novel is "The Black Dress".
I'm a Fellow of the Royal Society of Literature, a past chair of the Society of Authors and past Executive Committee member of PEN. I've also been awarded the OBE for my services to literature and drama. I live in London and Kent.