We have updated our Privacy Policy Please take a moment to review it. By continuing to use this site, you agree to the terms of our updated Privacy Policy.
This novel was written in a rush of emotion; it's really my love-letter to Dutch painting and that lost world of serene and dreamy domestic interiors. I hadn't written a historical novel before, and found the whole process extraordinary. It happened like this: I had bought, at auction, a painting by a minor Dutch artist. Dated 1660, it depicted a young woman getting ready to go out. She gazes at us with an enigmatic expression, and, as I gazed back I wondered: where is she going? Should she be going there? She hung in my living room, silent with her secrets.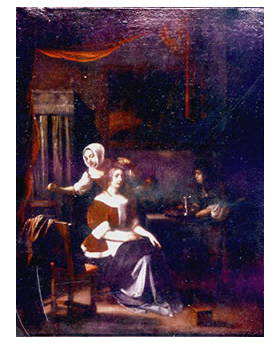 Here she is.
Some months later, in 1998, I was asked to give a talk about adapting books into films. The venue was the Empire Cinema, Leicester Square. This was where I had been sitting next to my partner, the cartoonist Mel Calman, when he died of a heart attack some years earlier. So giving a talk there was rather traumatic. When I was asked what film I would really like to make I replied, without hesitation: "I'd walk into a Vermeer painting." So the idea was born, in that dark cinema with its terrible memories.
I went away and swam in the ponds on Hampstead Heath, which helps me think of ideas, and worked out a plot based on a love affair between a painter and his sitter. In researching it, I discovered the tulip mania that had gripped the Dutch during the 1630s and thought this a wonderful symbol of human greed and passion. So the story was born. I sat down, surrounded myself with books of paintings and wrote it in a rush. It was a very thrilling time. I was living with a young Hungarian painter during that period and he built a three-dimensional Dutch interior around me – fireplaces, panelling – as I lay on the floor writing (he was doing up my house), and lit the rooms with candles.
This is a passage from the book that describes what I love about Dutch paintings of the 17th century.
"And hanging in a thousand homes, paintings mirror back the lives that are lived there. A woman plays the virginal; she catches the eye of the man beside her. A handsome young soldier lifts a glass to his lips; his reflection shines in the silver-topped decanter. A maid gives her mistress a letter…the mirrored moments are stilled, suspended in aspic. For centuries to come people will gaze at these paintings and wonder what is about to happen. That letter, what does it say to the woman who stands at the window, the sunlight streaming onto her face. Is she in love? Will she throw away the letter or will she obey it, waiting until the house is empty and stealing out through the rooms that recede, bathed in shafts of sunshine, at the back of the painting?
"Who can tell? For her face is serene, her secrets locked into her heart. She stands there, trapped in her frame, poised at a moment of truth. She has yet to make her decision."
Before the book was even published Steven Spielberg phoned from his car, in LA, saying he wanted to film it. Many plot twists followed this, as they do with such things, but finally – sixteen years later – it's changed executives from Spielberg to Harvey Weinstein and has been filmed! It stars Alicia Vikander, Dane deHaan, Judi Dench, Jack O'Connell, Holliday Grainger, Christoph Waltz and Tom Hollander and is directed by Justin Chadwick. Release date is autumn 2015 but see my News section for the latest info.
Book Description
Seventeenth-century Amsterdam is a city in the grip of tulip mania, basking in the wealth it has generated. Sophia's husband Cornelis, an ageing merchant, is among those grown rich from this exotic new flower. To celebrate, he commissions a talented young artist to paint him with his young bride. But as the portrait grows, so does the passion between Sophia and the painter; and as ambitions, desires and dreams breed an intricate deception, their reckless gamble propels their lives towards a thrilling and tragic conclusion.
Reviews
"A story of love, deceit, changelings, and mistaken identity worthy of a Restoration dramatist."
"A sumptuous and enthralling novel about art, love, illusion and money…with the denouement of a classic."
"A byzantine plot that hurtles towards disaster, while retaining the polished veneer of a Dutch interior."
"Sensuous and masterly…a gorgeous novel."
"A scintillating story of lust, deception and retribution.